Junk Removal Services in Salt Lake City
Are you looking for Salt Lake City Junk Removal you can count on? Look no further! Junk Movers provides quality, full-service junk pick-up and hauling services in Salt Lake City.
Superior Junk Removal Services in Salt Lake City, UT
Anyone who lives in Salt Lake City, UT knows there's never a dull moment. As the state's capital and largest city, there is always something new to see, do, and explore in the city and surrounding mountains. Sometimes, however, Salt Lake City residents have little to no down time to address their excess, unnecessary junk at home or work. Instead of procrastinating your at-home clean out, yard debris removal, or old furniture removal, we can take care of it quick and easy with our premium junk removal services in Salt Lake City!
Why Us?
As the most reliable junk haulers in Salt Lake City, we always put customers first. Junk Movers caters to a variety of other locations, customizes our services to fit your needs, and checks every box– even clean up! Our team is trained by experts in the field to handle all our junk removal services in Salt Lake City carefully, yet efficiently.
If you need to haul away junk as soon as possible, you've come to the right place! With 24/7 business hours, we gladly offer same and next-day service. Just call our office or book us online to get your foot in the door!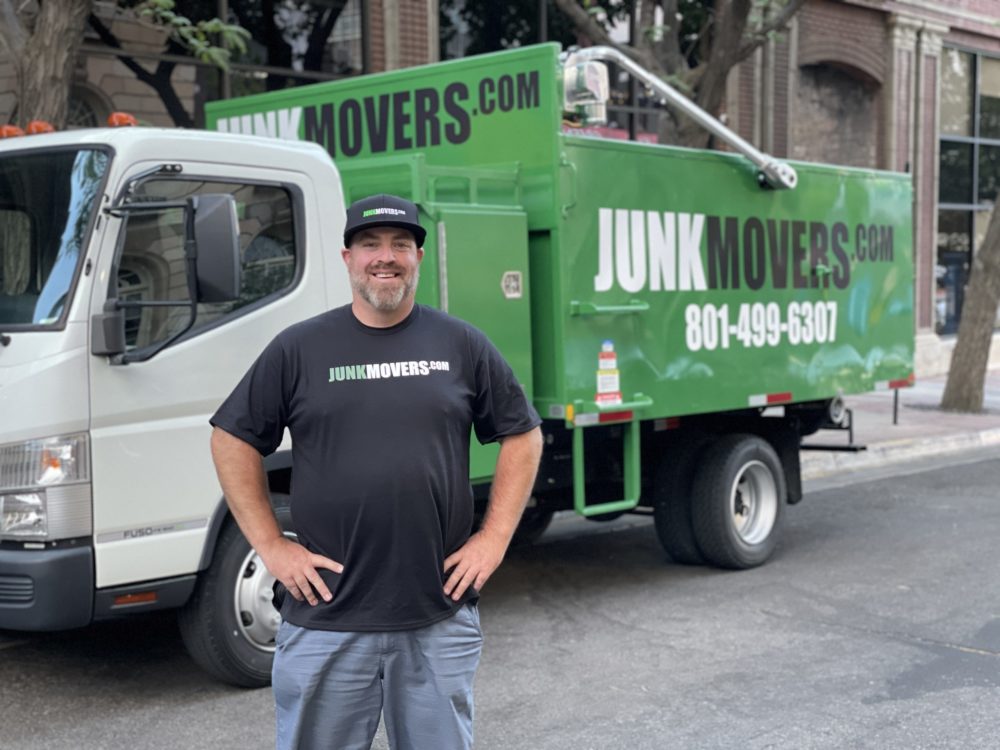 The Process
Our junk removal services in Salt Lake City are available at just a call away! Or if you'd rather, you can book us right here.
After your appointment is set, our staff will contact you to confirm and discuss the service you need. They'll then give you a service estimate based on the size of the job.
Prior to your appointment, our team will give you a courtesy call when on the way. Upon arrival, they'll take a look at the junk you'd like removed.
Once they're done with a brief assessment, our haulers will give you a final, firm quote, free of charge!
Now, it's your turn! Just approve our quote and we can grind through your junk pick-up in no time.
Affordably-Priced
Did you know 5-star junk removal services in Salt Lake City don't have to break the bank? As a local business, we sprinkle savings on top of your premium service, unlike other junk removal companies!
Volume-Based. Your junk removal cost is always based on how much junk needs removal.
Free Quotes. Before hauling away your junk, we'll give you an honest and upfront quote so you know just what to expect.
Zero Surprise Fees. We believe pricing should be simple and straight-forward. That's why we include all fees and costs in your quote!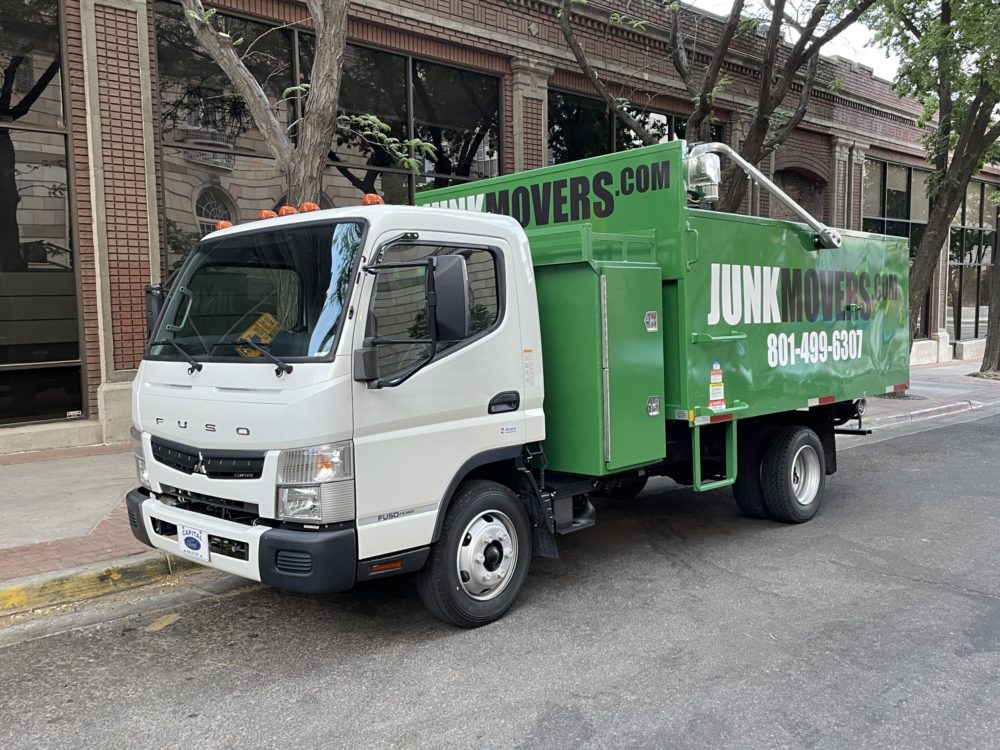 Safe and Considerate Disposal
With us, junk disposal gets handled properly, always. We put great effort into recycling, partnering with local licensed recycling and disposal sites in order to repurpose your junk items. Up to 60% of junk we pick-up gets recycled or donated right in your neighborhood! By putting forth these efforts, we strive to set the new standard of a cleaner, healthier tomorrow in Salt Lake City and surrounding communities.
Construction Debris Removal in Salt Lake City
In residential and commercial spaces, there's always room for improvement. Homeowners and business owners alike in Salt Lake City often turn to local contractors to knock down a wall, re-do their roof, or install new carpeting. However, all too often, construction workers leave behind a mess, leaving the disposal of construction debris up to you. While this may be a surprise to some, construction debris should be recycled. By doing this, responsible residents help save energy and reduce landfill waste in their community. Junk Movers offers full-service construction debris removal and disposal, saving you the trouble of finding a site that accepts construction debris and from any premium fees.
You'd be amazed at how quick our team finishes the process! They'll begin by rounding up all the debris and sorting them out based on the material. From there, haulers load up our trucks, making sure to get every last piece. Once they're out of your hair, they'll head to a nearby recycling center to dispose of your construction debris. Materials are then processed separately and appropriately on-site.
About Us
At Junk Movers, we're a locally-owned and operated junk removal company, priding ourselves in bringing unbeatable junk hauling services to your doorstep! By actively engaging with every customer, accommodating to their area and needs, and bringing prompt service, we distinguish ourselves as the top trusted junk removal company in The Valley.
Considering our eco-friendly and safe hauling practices, we are steps above the average junk removal company. That's because we care about our environment and strive to promote eco-friendly practices in the community. We work with donation and recycling centers because your junk could be another man's treasure!
What Our Customers Have to Say
Wow, Junk Movers are phenomenal! It took them less than a half hour to load up the items from my garage and yard that I wanted gone. Friendly and courteous team, and I definitely would recommend using this service!

Drew and his crew did an EXCELLENT job of hauling away commercial construction debris. They were on time, communicative and the quality was outstanding.

1800gotjunk didn't show up so I called these guys at the last minute. He showed up within an hour to give me an estimate and they did the work the next day. Absolutely phenomenal! I was so impressed with them! They were professional, courteous, fast, efficient and strong! They arrange everything in the trailer so tight that you definitely get your moneys worth. And they were not that expensive. They cleaned out my garage, back porch and basement in under 3 hours! Incredible! I will be recommending them to everyone I know.

Drew called me to give me a quote and was very kind. They arrived an hour sooner than expected, which is a positive in my book, and gave me a very reasonable quote. They cleared everything I needed away with a smile and were nothing but professional and courteous. It wasn't until AFTER that I read the reviews online and am wondering how these guys got anything less than 5 stars. I will recommend Drew and his crew to anyone and will use them again if I need them.

Responded right away to give an estimate. Came when arranged, friendly and professional. Also, very helpful, they moved a chair down the stairs to help my mom. Definitely will call next time we need things removed.

This company was so great to work with! They don't just remove junk, they are movers too. I bought a new house and they moved everything for me in only 5 hours (in the rain, with no complaints, and above and beyond mentality. Definitely recommend. I checked several mover companies, and Utah Junk Movers are very very competitive.

Excellent service. These guys really seem to enjoy helping people out and took extra measures to ensure we were taken care of. We'll absolutely call this company again when we need something cleaned out quickly and without any stress.

We just had our service done today after calling only yesterday to schedule a service time. They were on time and very fast getting everything into the trailer. We had a couple of large trees fall down several months ago so there were huge piles of branches that needed to be gone. They were professional and gave us a firm quote before starting the job, and it was a reasonable price for them taking away the headache of moving it all ourselves. I don't normally spend money for convenience, but this was a huge relief to us. I would definitely recommend this company!