House Cleanouts in The Valley
Is your home cluttered with an overwhelming amount of junk? With our premium house cleanout services, we can help!
House Cleanouts that Serve You
As working adults, our schedules can get pretty busy, making it difficult to keep up with at-home cleaning. Between food waste, office junk, and old electronics, unnecessary junk can accumulate fast, living rent-free in your home with no purpose. Possibly the biggest challenge of this is 1) finding the time for house cleanouts, and 2), actually getting started. It can also be difficult to get rid of certain things, and doing waste disposal research takes time and effort.
However, Junk Movers is here to help, offering full-service cleanout services right in your neighborhood! When it comes to house cleanouts, our haulers accommodate your schedule, adjust to your needs, and get the job done right, every time.
Why Us?
The simple thought of having to clean out your house can cause a headache. That's why Junk Movers makes it easy! Our full-service team is ready at just a call away to provide you with home cleanout services, saving you time and energy.
Trained Professionals. Our experienced junk experts are trained to handle our services for both residential and commercial needs with ease!
Full-Service.

Did you know you didn't have to move an inch for a whole house cleanout? That's right– we handle the job from junk removal to disposal. 

Open Scheduling.

We're the perfect match for residents that need

home cleanouts

right away! Open 24/7, we have something other house clean out companies don't: same-day service.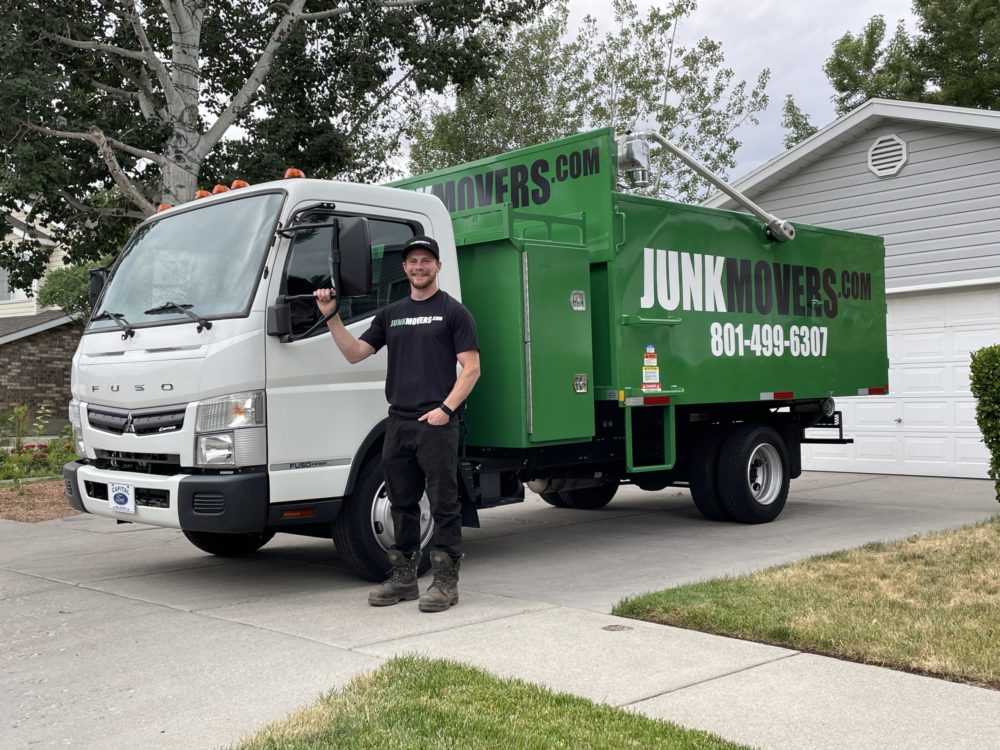 Our Process
To schedule our house cleanout services, just reach out to us through a phone call, or book us here!
In advance of your appointment, our team will contact you to get an idea of how much truck space your junk needs. Then, they'll give you a pricing estimate based on that.
Now, it's appointment time! After arriving on schedule, haulers evaluate the job and present you with a firm quote, free of charge.
Once you OK our quote, we can begin cleaning out your home! You can sit back while the pros take over.
Fair Pricing
At Junk Movers, we believe even the highest-quality house cleanouts should come at fair prices. Our system is volume-based, so the more truck space you need, the more we charge. However, we make pricing a breeze by lumping all costs into one all-inclusive rate! And don't worry– with our free, upfront quotes, you'll know what your total will be beforehand. As a local business, we even help you save by steering you clear of franchise fees!
Our Eco-Friendly Difference
Junk Movers sets itself apart from other junk removal companies with its recycling policies and practices. We pride ourselves in donating and recycling up to 60% of every load to give back and reduce landfill waste in your community! Who wouldn't want a cleaner city?
After gathering junk during house cleanouts, we'll first decide what is reusable for donation purposes. From there, we'll examine the remaining items and pick out what's recyclable. Unfortunately, there will most likely be a couple of things of zero value left over, which we would have to dump at a landfill.
Furniture Removal
One of our most common services is furniture pick-up and removal. For homeowners and renters, it can be very dangerous to haul furniture without the proper equipment. Additionally, residents would have to locate a nearby site to dump their old furniture at. With this being an overwhelming task, we take the weight off residents' shoulders with our full-service furniture removal. Our team works together using our approved equipment to safely haul your old sofa, dining table, or wardrobe into our trucks. Based on the furniture's condition, we'll bring it to a donation center or transfer station so it gets repurposed to its full potential.
The ideal outcome would be donating your furniture, resulting in it being sold to a grateful customer. However, our policy requires us to only donate sofas, mattresses, and other furniture pieces in a fair condition. Our haulers drop off damaged or worn-out furniture at local transfer stations that would then break the materials down, processing them separately. This way, the wood, cotton fibers, or other material gets reused and your furniture doesn't impede on the environment in a landfill. Large furniture also takes decades to fully break down and adds heavy pressure in landfills, releasing higher levels of toxins into the environment.
About Us
Locally owned in its home of Salt Lake City, Junk Movers is a highly-rated junk removal company covering The Valley. We believe with our 24/7 availability, hard-working team, and top-tier services, that no other company can compete. Our staff is backed by years of experience in the field that has paved the road for our accessible, unbeatable, and eco-friendly services you book today!
When you book us for a house cleanout, you can expect the best. We always arrive to appointments on time and keep it professional by landing on a firm quote right away. Once you confirm our rate, we'll work together to round up all your unwanted home junk and quickly sort through it. From there, we'll recycle and donate the majority of your junk at local facilities! This way, we give back to the communities we know and love and take steps towards a more a cleaner future for our home.
What Our Customers Have to Say
Wow, Junk Movers are phenomenal! It took them less than a half hour to load up the items from my garage and yard that I wanted gone. Friendly and courteous team, and I definitely would recommend using this service!

Drew and his crew did an EXCELLENT job of hauling away commercial construction debris. They were on time, communicative and the quality was outstanding.

1800gotjunk didn't show up so I called these guys at the last minute. He showed up within an hour to give me an estimate and they did the work the next day. Absolutely phenomenal! I was so impressed with them! They were professional, courteous, fast, efficient and strong! They arrange everything in the trailer so tight that you definitely get your moneys worth. And they were not that expensive. They cleaned out my garage, back porch and basement in under 3 hours! Incredible! I will be recommending them to everyone I know.

Drew called me to give me a quote and was very kind. They arrived an hour sooner than expected, which is a positive in my book, and gave me a very reasonable quote. They cleared everything I needed away with a smile and were nothing but professional and courteous. It wasn't until AFTER that I read the reviews online and am wondering how these guys got anything less than 5 stars. I will recommend Drew and his crew to anyone and will use them again if I need them.

Responded right away to give an estimate. Came when arranged, friendly and professional. Also, very helpful, they moved a chair down the stairs to help my mom. Definitely will call next time we need things removed.

This company was so great to work with! They don't just remove junk, they are movers too. I bought a new house and they moved everything for me in only 5 hours (in the rain, with no complaints, and above and beyond mentality. Definitely recommend. I checked several mover companies, and Utah Junk Movers are very very competitive.

Excellent service. These guys really seem to enjoy helping people out and took extra measures to ensure we were taken care of. We'll absolutely call this company again when we need something cleaned out quickly and without any stress.

We just had our service done today after calling only yesterday to schedule a service time. They were on time and very fast getting everything into the trailer. We had a couple of large trees fall down several months ago so there were huge piles of branches that needed to be gone. They were professional and gave us a firm quote before starting the job, and it was a reasonable price for them taking away the headache of moving it all ourselves. I don't normally spend money for convenience, but this was a huge relief to us. I would definitely recommend this company!