Office Furniture Removal in Utah Valley
Junk Movers has an office furniture removal service near you!
Get Rid of Office Furniture with Junk Movers
Whether it's desks, cubicles, or conference tables, Junk Movers can help you clear up space with our office furniture removal service.
Let's face it, office space rental is going down and remote work is on the rise. Utah's remote businesses are saving millions on space and are some of the quickest-growing in the country. What's to be done with the extra office space? A cleanout, of course. That's where Junk Movers come in.
We're experienced professionals in the junk removal industry, and Utah Valley businesses can count on us to take care of their cluttered offices. It's not an easy job, so reach out to get the help you need today!
Why Us for Office Furniture Removal?
Put your trust in a company for the right reasons. Junk Movers is a local business in the Utah Valley. We're not strangers here. This is our home, too. So we definitely want to do good by our fellow residents. Choose us to handle your office furniture removal service and enjoy the experience of friendly, local, and welcoming etiquette. Our customer service is as good as our removal service.
We also offer a fair and consistent pricing system. If you're trying to estimate the cost of your junk removal, just know you'll only pay for what you need removed. There will be no extra fees added on top for random reasons. We don't do that to our neighbors! Likewise, we'll offer you a no-obligation quote for old office furniture removal. And that quote remains should you choose us to get rid of office furniture for you.
Office cleanouts are bigger jobs than most people think. With Junk Movers you'll get full-service cleanouts. Meaning we'll evaluate your junk, offer you our most affordable rate, do all the heavy lifting and loading, clean up afterwards, and dispose of your items accordingly. When you choose us, you choose excellence, and there is no alternative to excellence!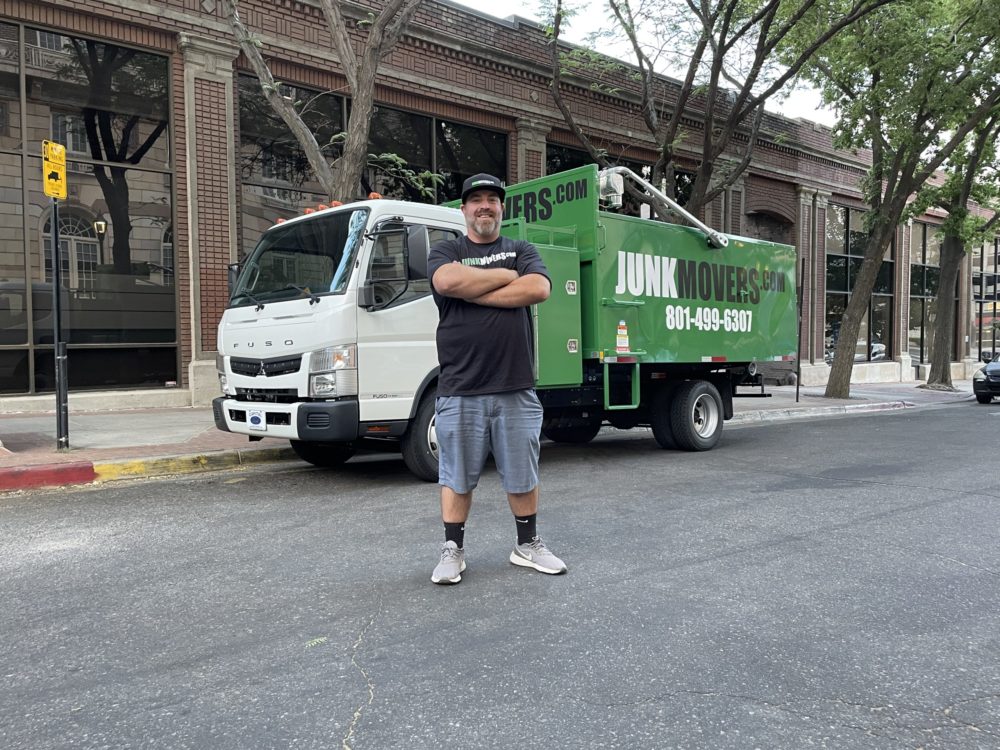 Our Office Furniture Removal Process
Scheduling.  Your first step is to book an appointment with one of our junk removal team members. Do this by either calling (801) 499-6307, or using our quick and easy online booking form. The form allows you to see upfront and choose from available appointments for your service!
Pricing.  We'll give you a quote that covers the full-service from beginning to end. Our prices are fair and affordable and save you time and money in your office furniture removal process.
Servicing.  Lastly, you'll receive the service you expected. Junk Movers teams cover every aspect of the haul from lifting to disposal. Stand aside while we do all the work for you!
Office Cubicle Removal
It wouldn't truly be efficient to do part of the work and leave you with junk left over. That's why our office furniture removal service covers office cubicle removal. If you're looking to transition to an open-style office plan, let us take care of those bulky cubicles for you! We'll cover every part of getting those bulky cubicles out including disassembly, hauling them out of your office, and disposing of them at the correct site. Are you clearing everything out and transitioning to remote work? We also offer Office Cleanouts that leave you with an office that's ready for the next business!
Our crew will take other heavy office items like conference tables, electronics, reception desks, and shelving. We even offer file cabinet removal if you're looking to go paperless! We also make sure that all of the small debris is taken care of and swept up on our way out! That's because, as experienced professionals, we know what makes a junk hauling service complete. Nothing should be left behind except a new space to encourage you to run a new and successful business.
About Us
As your local junk removal experts, we have a vested interest in keeping our communities clean. It' why we started our business in the first place! When you choose us to handle your junk, you're choosing Utah Valleys' finest. Our crews are experienced and skilled in what they do and get the job done smoothly and masterfully.
More about us, we care about your community because it's our home, too. Rest assured that when we take your unwanted office furniture items, we'll donate or recycle anything that is in good condition to do so. This is usually up to 60% of what we haul. That means less trash going to the landfill, and a cleaner footprint in the Utah Valley.
Give us a call today and let Junk Movers do the heavy office cleanout for you.
What Our Customers Have to Say
Wow, Junk Movers are phenomenal! It took them less than a half hour to load up the items from my garage and yard that I wanted gone. Friendly and courteous team, and I definitely would recommend using this service!

Drew and his crew did an EXCELLENT job of hauling away commercial construction debris. They were on time, communicative and the quality was outstanding.

1800gotjunk didn't show up so I called these guys at the last minute. He showed up within an hour to give me an estimate and they did the work the next day. Absolutely phenomenal! I was so impressed with them! They were professional, courteous, fast, efficient and strong! They arrange everything in the trailer so tight that you definitely get your moneys worth. And they were not that expensive. They cleaned out my garage, back porch and basement in under 3 hours! Incredible! I will be recommending them to everyone I know.

Drew called me to give me a quote and was very kind. They arrived an hour sooner than expected, which is a positive in my book, and gave me a very reasonable quote. They cleared everything I needed away with a smile and were nothing but professional and courteous. It wasn't until AFTER that I read the reviews online and am wondering how these guys got anything less than 5 stars. I will recommend Drew and his crew to anyone and will use them again if I need them.

Responded right away to give an estimate. Came when arranged, friendly and professional. Also, very helpful, they moved a chair down the stairs to help my mom. Definitely will call next time we need things removed.

This company was so great to work with! They don't just remove junk, they are movers too. I bought a new house and they moved everything for me in only 5 hours (in the rain, with no complaints, and above and beyond mentality. Definitely recommend. I checked several mover companies, and Utah Junk Movers are very very competitive.

Excellent service. These guys really seem to enjoy helping people out and took extra measures to ensure we were taken care of. We'll absolutely call this company again when we need something cleaned out quickly and without any stress.

We just had our service done today after calling only yesterday to schedule a service time. They were on time and very fast getting everything into the trailer. We had a couple of large trees fall down several months ago so there were huge piles of branches that needed to be gone. They were professional and gave us a firm quote before starting the job, and it was a reasonable price for them taking away the headache of moving it all ourselves. I don't normally spend money for convenience, but this was a huge relief to us. I would definitely recommend this company!