Junk Removal Services in Highland, UT
Our hauling services in Highland are a fantastic choice when you want to avoid frustrating do-it-yourself junk removal. Call Junk Movers to schedule your appointment today!
JUNK REMOVAL SERVICES IN HIGHLAND
History has it that Highland, UT got its name because Scottish immigrants thought it looked like the highlands from their home country. In any case, we think that this is a city with a lot of highs and very few lows. It's a great place to raise a family, operate a business, or rent out property to tenants. However, situations can sometimes arise where you'll need junk removal services in Highland, UT, whether you're a homeowner, a business owner, or a property manager. Who should you call when this occurs? Try Junk Movers out for size!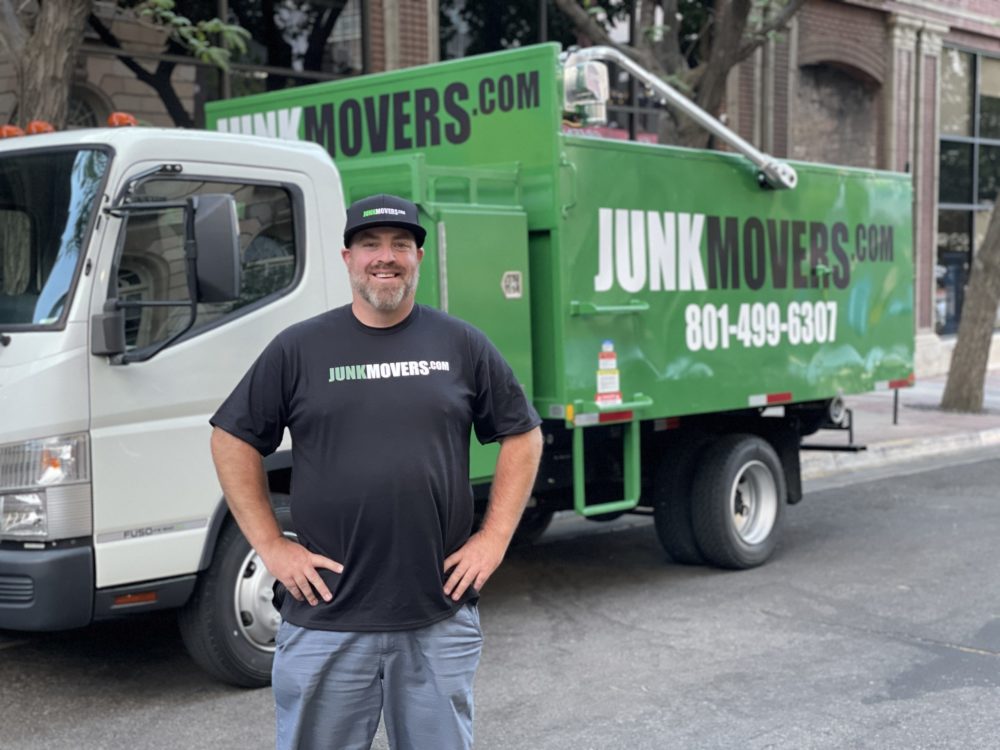 Why Our Junk Pick Up?
When you need trustworthy services from a local business you can trust, you should get in touch with our junk haulers in Highland, UT. Our team is an all-professional, fully trained force that knows how to handle any kind of junk. This includes old furniture, electronics, carpets, bookshelves, clothes, toys, and more! Remember that when you need us to remove junk from your property, you're not inconveniencing us. We love what we do, and we'd love to do it for you, too. That's why we're always friendly, hardworking, and offering our customers affordable prices, too!
How do our junk removal prices work, anyway? Simply put, they're determined on a basis of volume, which means that the amount of truck space your junk uses up dictates what you pay. So, big jobs cost more than small jobs. It's simple, straightforward, and most importantly, fair. There are no hidden fees involved with our services, either.
Now you know what Junk Movers is all about. Ready to schedule junk removal services in Highland from us? We're looking forward to hearing from you, so get started today by contacting us online or calling us at 801-499-6307.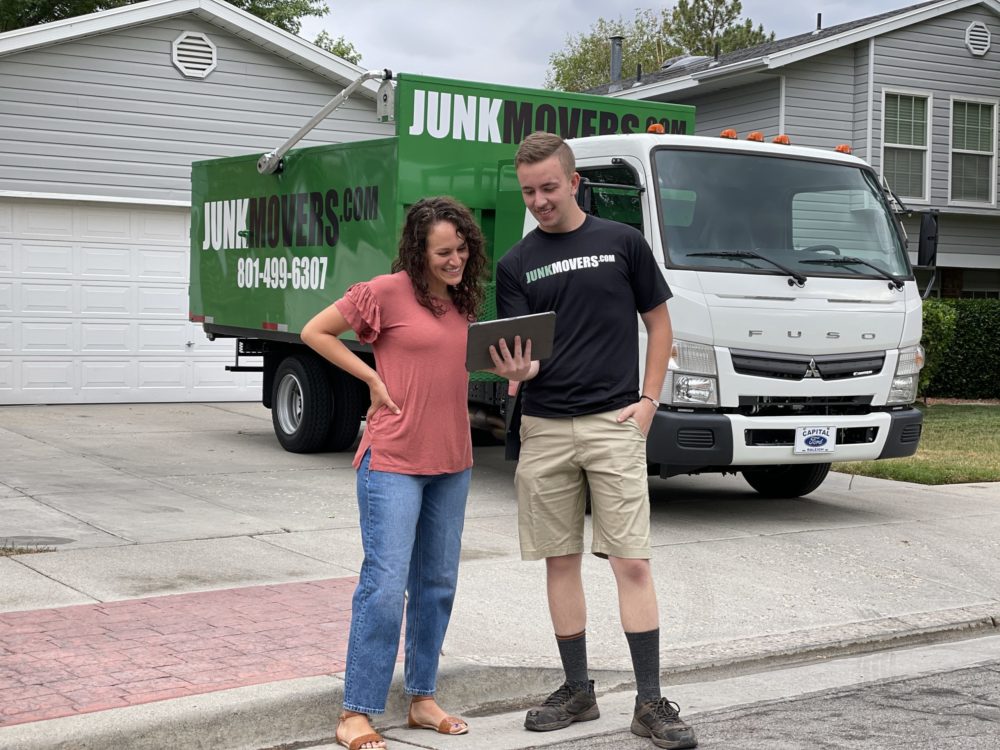 How Highland Junk Removal Works
Nobody likes a junk removal team that shows up late, which is why we hold ourselves to always being punctual. We'll even give you a courtesy call when we're on our way.
Once we have arrived, let's take a moment to get to know each other! Then, show us all the junk that you need to get rid of. We'll prepare a service quote for your approval.
If you approve our price, then we'll get straight to work right away. It doesn't take our junk haulers long to haul all your junk off your property and onto our truck.
You won't have to take a special trip to a transfer station because we will dispose of your unwanted junk for you. Once we're gone, you're free to resume your day!
Hoarder Clean Outs in Highland, UT
Highland is a nice place to live, but sometimes, we have our own personal problems that we hide behind closed doors. While we can't help you with a shaky marriage or a fight among friends, what we can help you with is a hoarding problem. Hoarding is a serious issue that stems from deep-rooted psychological problems. The hoards themselves can quickly become serious issues, too. They're unsanitary for a multitude of reasons, as they can house pests, harmful bacteria, and make a hoarder feel isolated. Is it time for us to intervene? When you need hoarder cleanouts for a loved one or yourself, Junk Movers is prepared to help.
On the day of your appointment, we'll put on our gloves and get to work. We can take virtually any hoarded item, including broken appliances, scattered trash, old books and magazines, and more. You'll be amazed at how quickly space opens up as we remove junk. What's more, we'll also sweep up behind ourselves because we want to turn that hoarder house into a clean, livable house. Of course, we'll be courteous from start to finish. We're never here to pass judgement. We're just here to clean up junk—no questions asked.
About Us
At Junk Movers, we believe There Is No Alternative to Excellence. This is why we never fall short of providing our customers with the best of the best that the junk removal world has to offer. Fair prices. Fast service. Friendly faces. We give all of these—and more. Our community has provided our local business with so much success, and we are eager to give back to neighbors like you. So if you've got junk, don't wait to call us. We can't wait to get to work!
What Our Customers Have to Say
Wow, Junk Movers are phenomenal! It took them less than a half hour to load up the items from my garage and yard that I wanted gone. Friendly and courteous team, and I definitely would recommend using this service!

Drew and his crew did an EXCELLENT job of hauling away commercial construction debris. They were on time, communicative and the quality was outstanding.

1800gotjunk didn't show up so I called these guys at the last minute. He showed up within an hour to give me an estimate and they did the work the next day. Absolutely phenomenal! I was so impressed with them! They were professional, courteous, fast, efficient and strong! They arrange everything in the trailer so tight that you definitely get your moneys worth. And they were not that expensive. They cleaned out my garage, back porch and basement in under 3 hours! Incredible! I will be recommending them to everyone I know.

Drew called me to give me a quote and was very kind. They arrived an hour sooner than expected, which is a positive in my book, and gave me a very reasonable quote. They cleared everything I needed away with a smile and were nothing but professional and courteous. It wasn't until AFTER that I read the reviews online and am wondering how these guys got anything less than 5 stars. I will recommend Drew and his crew to anyone and will use them again if I need them.

Responded right away to give an estimate. Came when arranged, friendly and professional. Also, very helpful, they moved a chair down the stairs to help my mom. Definitely will call next time we need things removed.

This company was so great to work with! They don't just remove junk, they are movers too. I bought a new house and they moved everything for me in only 5 hours (in the rain, with no complaints, and above and beyond mentality. Definitely recommend. I checked several mover companies, and Utah Junk Movers are very very competitive.

Excellent service. These guys really seem to enjoy helping people out and took extra measures to ensure we were taken care of. We'll absolutely call this company again when we need something cleaned out quickly and without any stress.

We just had our service done today after calling only yesterday to schedule a service time. They were on time and very fast getting everything into the trailer. We had a couple of large trees fall down several months ago so there were huge piles of branches that needed to be gone. They were professional and gave us a firm quote before starting the job, and it was a reasonable price for them taking away the headache of moving it all ourselves. I don't normally spend money for convenience, but this was a huge relief to us. I would definitely recommend this company!