Yard Debris Services in Salt Lake City, UT
Have you toiled away in your garden or yard for hours doing laborious chores and feel like you haven't made a dent? If it feels like your garden or yard debris may be increasing, call the experts at Junk Movers. We are the Utah Valley's top choice for any yard debris removal or waste disposal you need.
Professional Yard Debris Removal Service
It can be challenging to keep your yard looking clean and beautiful. Your property can get quite unpleasant when those annoying weeds start to play. Trying to clean up your yard on your own can be time-consuming and just annoying. Fortunately, the experts at Junk Movers are on hand to assist! With years of experience in efficient tree debris removal and yard waste pickup, we know what it takes to restore the beauty of your yard.
In addition to yard debris removal, we provide a variety of services designed to make your life easier, including light demolition, cleanouts, and furniture removal. We work hard to make sure that the removal process is speedy and hassle-free for our consumers. Our staff will be standing by and prepared to help you once you are prepared to give us a call.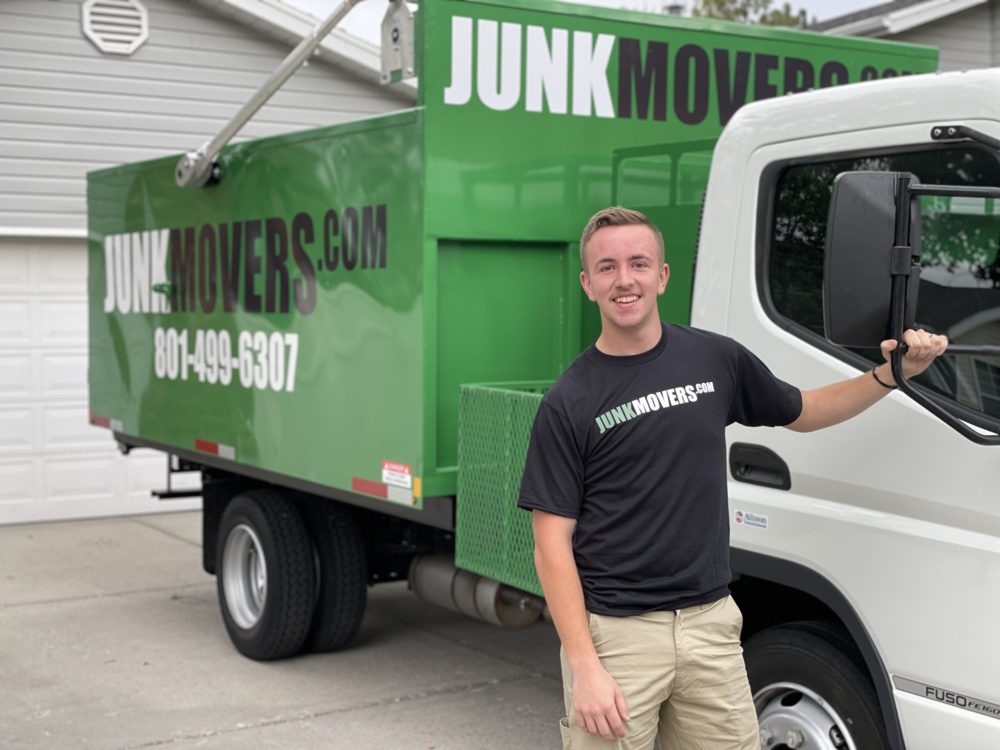 Why Our Yard Waste Removal?
By providing our customers with quality services, Junk Movers lives up to the idea that "there is no alternative to excellence." We are aware that you take pride in maintaining a lovely landscape. Your typical domestic waste is largely made up of tree and landscaping detritus. After taking care of your yard, you can relax knowing that we will properly dispose of your landscape debris.
When you show us the junk that needs to be removed, we'll provide you with a no-obligation quote. The amount of room your products occupy in our truck will determine how much we charge. We'll never surprise you with hidden fees, and always show up to the job with the right tools ready to work! After completing the project, we will clean up and leave your yard as spotless as possible. So, when you are ready to book with us online, we'll be ready to help.
How Our Yard Debris Disposal Works
You simply don't have the time to bother or clean up your yard yourself when the debris builds up. For help with yard junk removal, call Junk Movers today.
Tell us exactly where you need our assistance once we get on your property. We will provide you with a quote after we have surveyed the area.
We will get to work as soon as you accept the quote. Our expert crew will work diligently and efficiently to clear your garden or yard of any rubbish.
When everything is finished, we will check to see if we made any messes before moving on. After accepting the payment, we'll be on our way.
Fence Removal in Salt Lake City, UT, and Surrounding Areas
You may notice that your fence may look a little worn out when you are cleaning out your garden or yard. When that occurs, you might attempt to remove it yourself, but keep in mind how difficult it can be. Fortunately, Junk Movers is ready to help. We have a team with years of fence removal expertise ready to tear down that fence and make room for a new one. From removing the those old boards to digging up the posts, our crew is ready to do all of the dirty work for you! Picket fences, panels, posts, gates, and even privacy fences can be taken down by our staff. We make an effort to make the procedure simple, fast, and inexpensive. So don't delay; call us today or book with us online.
About Us
Serving Salt Lake City and the surrounding communities, Junk Movers is dedicated to providing amazing and affordable costs for your property. Whether you're searching for yard waste disposal, shed demolition, estate cleanouts, yard debris removal, and more! Our crew members have extensive experience in the junk removal business and are friendly and respectful. We know that our expertise reflects on the jobs that we perform for our clients. Therefore, we want to serve our clients with a degree of effectiveness that cannot be equaled by competition while also helping our community with eco-friendly practices. Give us a call when you are ready; we will be ready to help you.
What Our Customers Have to Say
Wow, Junk Movers are phenomenal! It took them less than a half hour to load up the items from my garage and yard that I wanted gone. Friendly and courteous team, and I definitely would recommend using this service!

Drew and his crew did an EXCELLENT job of hauling away commercial construction debris. They were on time, communicative and the quality was outstanding.

1800gotjunk didn't show up so I called these guys at the last minute. He showed up within an hour to give me an estimate and they did the work the next day. Absolutely phenomenal! I was so impressed with them! They were professional, courteous, fast, efficient and strong! They arrange everything in the trailer so tight that you definitely get your moneys worth. And they were not that expensive. They cleaned out my garage, back porch and basement in under 3 hours! Incredible! I will be recommending them to everyone I know.

Drew called me to give me a quote and was very kind. They arrived an hour sooner than expected, which is a positive in my book, and gave me a very reasonable quote. They cleared everything I needed away with a smile and were nothing but professional and courteous. It wasn't until AFTER that I read the reviews online and am wondering how these guys got anything less than 5 stars. I will recommend Drew and his crew to anyone and will use them again if I need them.

Responded right away to give an estimate. Came when arranged, friendly and professional. Also, very helpful, they moved a chair down the stairs to help my mom. Definitely will call next time we need things removed.

This company was so great to work with! They don't just remove junk, they are movers too. I bought a new house and they moved everything for me in only 5 hours (in the rain, with no complaints, and above and beyond mentality. Definitely recommend. I checked several mover companies, and Utah Junk Movers are very very competitive.

Excellent service. These guys really seem to enjoy helping people out and took extra measures to ensure we were taken care of. We'll absolutely call this company again when we need something cleaned out quickly and without any stress.

We just had our service done today after calling only yesterday to schedule a service time. They were on time and very fast getting everything into the trailer. We had a couple of large trees fall down several months ago so there were huge piles of branches that needed to be gone. They were professional and gave us a firm quote before starting the job, and it was a reasonable price for them taking away the headache of moving it all ourselves. I don't normally spend money for convenience, but this was a huge relief to us. I would definitely recommend this company!